About Health & Wellness
The Health & Wellness Team is a partnership of residents, healthcare providers, environmental advocates, and public health leaders in the South Indy community. We view health as a holistic community need, where overall wellness of residents depends on health food, recreational opportunities, healthcare options, and a clean environment.
Current Projects
Improve Environmental issues
impacting south indy
Produce an interactive map of air, land and water environmental assets & challenges in South Indy.
increase individual home gardening in south indy
Encourage more individual home gardening through education with our South Indy Community Garden Development Guide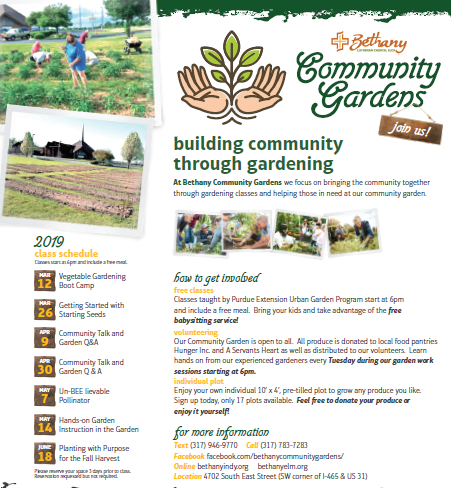 Bethany Lutheran Community Garden
Bethany Lutheran Community Garden is ready to deliver fresh produce to Hunger Inc. and a Servants Heart.
This community garden is a the result of the following collaborating partners:
-Purdue Extension
-Indianapolis Neighborhood Resource Center
-SoIndy Quality of Life, Health & Wellness Action Team
-UIndy
-Purdue Ext. Urban Agriculture Certificate program
-Bethany Lutheran Church and community volunteers
Bethany Garden will host community work nights every Tuesday evening at 6pm (4702 South East Street, southwest portion of intersection of I-465 and U.S. 31). On every third Tuesday of each month, meals will be provided at 6:00 pm. All are welcome!
Growing your own food is a great way to cut down your grocery bill and increase your health. The Bethany garden has been growing for less than 1 month and look what results they have already below..
The UIndy garden is located on the west side of the United Methodist Church at 4002 Otterbein Ave. On Friday, April 20, volunteers from University of Indianapolis, Community Health Network, Purdue Extension and SoIndy QOLP cleaned nine raised garden beds, glued the bed's cement blocks, shoveled and spread dirt, pulled weeds, and did some planting.
"We know that social determinants, like a lack of access to nutritious food, can affect overall health and well-being," said Priscilla Keith, Executive Director of Community Benefit for Community Health Network. "We are proud to work with our partners at UIndy to offer this pilot program which will not only provide access to fresh and affordable food; but educate students and those living in neighborhoods around the UIndy campus how to start and maintain their own gardens. Our goal is to find ways to reach beyond our sites of care to impact the health and the quality of life of the communities we serve."